This week I tried Padlet and Plickers with my students. The goal was to add a visual and anonymous way to deepen our discussion of legal and moral responsibilities of parents.
We struggled with Padlet. It is like having Post-its in a "parking lot" on a wall, but typed via phone and projected. The students preferred just to speak, and once their phones were in their hands, a few were too tempted to go off task. We agreed it wasn't for us as a class.
​
The students and I really enjoyed using Plickers. We laminated the answer cards, and each student will keep theirs in their binders all year. The nice things were that their answers could be tabulated and graphed, but could be anonymous. This was important, as we were talking about morals, and we wanted to not judge, but to understand our differing answers. Another benefit was that they didn't need their phones. The questions were up on the Innovation Station screen, they held up their answer cards in the direction to indicate their answer, I scanned their cards with my phone, and we could see a graph up on the big screen. My only issue with Plickers is the way you create a Library of questions, but then have to also add them to a queue. Then you have to repeat adding them to the queue for the next class.
Based on the participation while using Plickers, we will definitely be using it again.
Powered by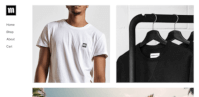 Create your own unique website with customizable templates.